Congratulations to the 2017 Excellence in Design Award Winners!
Bloomsburg University – Central Plant Bio-Fuel Conversion
Murphy & Dittenhafer Architects | Citation
Jury Comments:
"This project has a timeless design approach, simple and direct to its its utilitatrian funcion. We need more projects like this. Thank you!"
---
Keystone Building Residential Conversion (F@TT)
Chris Dawson Architect | Merit Award 
Jury Comments:
"A brilliant intervention to a concrete structure. This conversion executed with taste and restraint provides calm and comfortable living spaces while expressing the original reinforced concrete frame pays homage to the building's original structure."
---
Dance Studio, Garage Bay Renovation
Chris Dawson Architect | Merit Award
Jury Comments:
"This is what architecture should be…and be about. A real eye-opener! Bravissimi!"
---
Innovation and Leadership Pavilion
Murphy & Dittenhafer Architects | Merit Award
Jury Comments:
"Clearly cutting edge design. The plan is open, both vertically and horizontally, with the stepped presentation theater affording access to and communication between the ground floor and upper floor. The glazing expresses the spirit of openness embodied in innovation; students at work inside can enjoy a vista of the campus while the view to the interior from the campus advertises what's going on inside. Clearly visible structure conveys engineering, often a product of innovative research"
---
John Stewart Memorial Library and Lenfest Learning Commons
Murray Associates Architects, P.C. | Citation Award
Jury Comments:
"A breath of fresh air for a grand old building. The Lenfest Learning Commons design transforms the old horizontal aspect ratio to vertical and adds a transverse gable which, with matching the grey granite of the original 1932 library, bringing the exterior of the Commons into conformity with the original campus style. This adaptation is likely appropriate to the Campus inclusion in the National Register of Historic Places."
---
Rooster Woodshop
RLPS Architects | Merit Award
Jury Comments:
"An ideal adaptive reuse for the old foundations. We all wish we had such an exquisite woodshop. The millwork of the work stations reflects the wood working engaged in by the users – it's detailing recalls generic desks and cabinetry from half a century ago. Individualized project stations separated from common areas for power tools and assembly tables ably program the activity types of the woodworkers trade translated for a hobbyist venue."
---
Luca
TONO Architects| Merit and Good Design is Good Business Awards
Jury Comments:
"The background story sets the stage,…quite fortuitous. This simple and clean intervention to the majestic bow-truss warehouse does it justice."
---
Listrak
TONO Architects | Citation Award
Jury Comments:
"The building's interior, where offices and meeting rooms communicate through expanses of glazing to the common spine suggests an open and fluid managerial style. That and the generous daylighting contemporary and confortable furnishings give the impression of an agreeable workplace design."
---
AIA Central PA Architects Foundation Fund Annual Scholarship
The AIA Central PA Architects Foundation Fund chose Christina Accomando to receive its annual scholarship.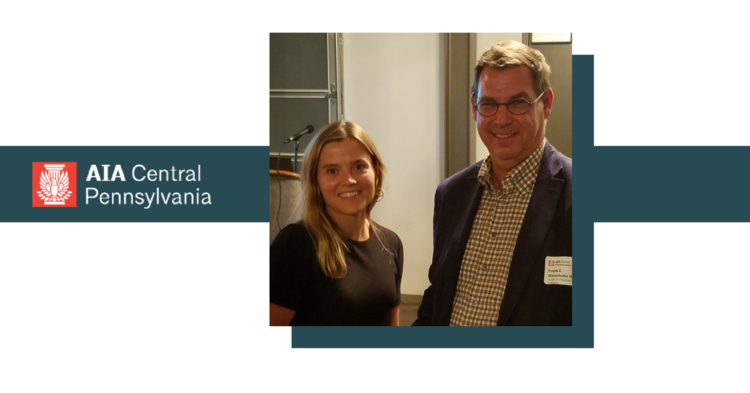 A scholarship awarded annually to an area Architecture student has been a fulfilling way in recent years for Frank Dittenhafer of Murphy & Dittenhafer Architects to help advance both the field and local communities.
Each year it brings smiles, excitement and great pride for the recipient, Dittenhafer says.
"This is a way for us to reward a young, talented person we feel can make a strong contribution," he says. "The recognition means a lot to them, too, and they're very grateful." Click here to read more about Christina and this scholarship.