2021 Conference, Expo, and Excellence in Design Awards
September 29, 2021 @ 2:00 pm

-

8:00 pm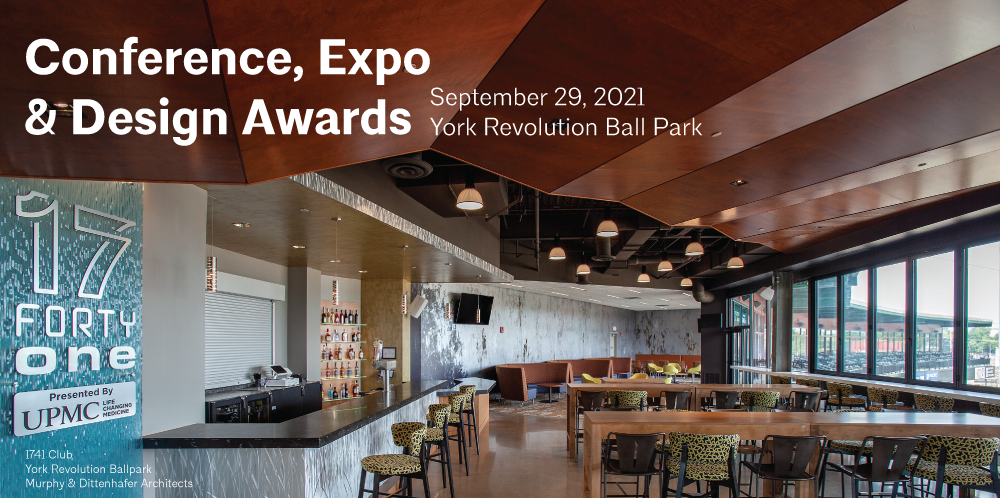 The Conference, Expo, and Excellence in Design Awards is back! AIA Central Pennsylvania is happy to resume this signature event in-person this fall. Join us at the York Revolution Ball Park for building tours, an exclusive vendor expo, networking happy hour, and the 2021 design awards reveal.
*This event will be held in accordance with CDC Guidelines, ballpark venue policies, and building tour policies.
Schedule of Events
2:00 pm – 4:00 pm Architectural Tour of: 55 West Philadelphia Street, Rupp Building, and Royal Square District
Led by Dylan Bauer & Sarah Malinsky with Royal Square Development & Construction
4:00 – 5:00 pm Building Tour: Keystone Kidspace,
Led by Jessica Brubaker. Executive Director of Keystone Kidspace and Dana Clark with Tippetts/Weaver Architects
5:00 – 7:00 pm Happy Hour
7:00 -8:00 pm Design Awards
Questions?  Please contact Rachel Haynes, Assoc. AIA Central PA President, 717-394-0553 or rhaynes@tippettsweaver.com
Thank you to our Exhibitors
Thank you to our Design Awards Sponsors
Interested in exhibiting or sponsoring the Conference, Expo, and Design Awards? Learn more and sign up here.
Meet the Design Awards Jury
Janet Bloomberg, FAIA, Jury Chair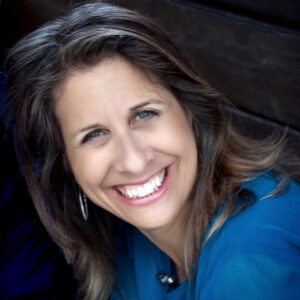 Janet Bloomberg is a partner and founder of KUBE architecture in Washington DC, a modern architecture studio that challenges the norms of daily life and attempts to reinterpret ways of working and living in the built environment. Janet is a native of the Washington area, and attended the University of Virginia for her Bachelor of Science degree and Columbia University for her Master of Architecture. While a student at Columbia, she was awarded the SOM Traveling Fellowship, with which she traveled to India and Nepal for research on ritual space. Janet's work has received numerous local, regional, and national design awards, and her projects have been extensively published in national and international publications. She has taught architectural design at a number of universities around the country, including the University of Virginia and Catholic University. Janet served as President of the Washington Architectural Foundation Board for two years, where she started several new programs for DC youth in architecture. In 2016 Janet received AIA|DC's prestigious John Wiebenson "Wieb" Award, the highest local architectural honor recognizing service to the profession and to the community. In 2020 Janet became a Fellow of the American Institute of Architects.
Amy E. Gardner, FAIA, LEED-AP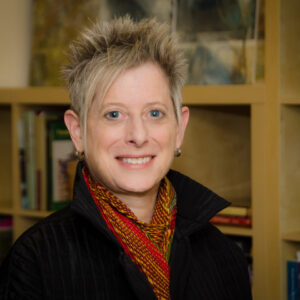 Amy E Gardner FAIA LEED-AP is a founding principal in Gardner Architects LLC and a clinical professor of architecture at the University of Maryland School of Architecture, Planning, and Preservation. Gardner Architects LLC is a residential architecture practice, focusing on sustainable, artfully crafted buildings and places.  Developed over three decades of professional practice involving projects from large scale commercial and institutional buildings to private homes, the firm's work is site-specific, detail-oriented, and client-centric.  At the heart of Gardner's practice is how buildings are designed and built, particularly the collaborative processes and team structures necessary to tackle the pressing problems of today and tomorrow.  Amy is a two-time veteran of the US Department of Energy Solar Decathlon, having stewarded the University of Maryland's 2007 and 2011 teams to second- and first-place wins, respectively. For their innovation and elegance, Gardner Architects' projects have been recognized locally, regionally, and nationally by the AIA and other professional and industry groups.  Demonstrating to her clients how, through architecture and design, they can make sustainable choices in their everyday life, she translates ideals born in a research environment into real-world practice.
Robert M. Gurney, FAIA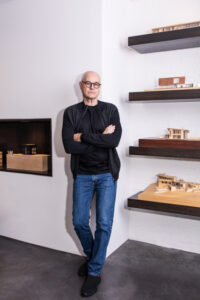 The office of Robert M. Gurney, FAIA is dedicated to the design of modern, meticulously detailed and thoughtfully ordered residential and commercial projects that are sensitive to site, program, and budget. Materials are employed with honesty, integrity, and ecological awareness. Interior spaces are active and intricate, tranquil, and minimal. Regardless of project size or budget, our office is committed to producing buildings and spaces that strive for design excellence. Whether working in complex historical districts or on a vacant site, the design process involves an understanding of site-specific issues of location, landscape, history, availability of materials and construction methods, while including considerable client interaction. Design solutions arrive through the thoughtful manipulation of light, color, texture, form, and geometry, culminating in architecture that is simultaneously complex and distilled. An understanding of current technology, attention to detail, and awareness of location, landscape and history, lead to design solutions that respect historical, topographical, and regional context, without being revivalist. The office of Robert M. Gurney, FAIA has created a body of work that has won more than three hundred forty local, regional, and national design awards, including two National AIA Honor Awards, six National AIA Housing Awards, six American Architecture Awards and three National AIA Small Project Awards. The office's work has been published in numerous local, national, and international magazines, books and periodicals, and is the subject of two monographs, "Modern Order: Houses by Robert Gurney" and "Robert M Gurney Architect", part of Images Publishing Master Architect Series.