Meet the 2023 Excellence in Design Jury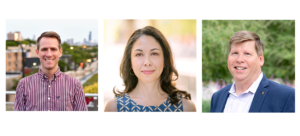 In 2023, the AIA Central Pennsylvania Excellence in Design Awards jury will be chaired by Bradley Fritz, Senior Theater Design Consultant with Charcoalblue, Bradley will be joined by fellow Dallas architects, Kate Aoki, AIA and Peter Dearby, AIA.  The jury will meet in late July early August to deliberate on the submissions to this year's Excellence in Design Awards. Read on to learn more about the jurors and what they seek in this year's submissions. [Pictured above, left to right: Fritz, Aoki and Darby]
Bradley Fritz, AIA
Senior Theatre Design Consultant, Charcoalblue
ABOUT
Bradley Fritz is a Senior Theatre Design Consultant with Charcoalblue, providing consultancy in all aspects of theater design, specializing in auditorium design and planning, seating, sightlines and accessibility. Based here in Dallas but working globally, his expertise in theatre performance, technical systems, and design helps Architects create beautiful and functional performance spaces customized for each client.
Among Bradley's passions is championing equitable design and diversifying the Architecture profession. In 2021, after years of serving in diversity, equitability, and inclusion roles for both AIA Iowa and AIA Chicago, he joined the AIA Dallas Board of Directors and founded the LGBTQIA+ Alliance. He is a graduate of Drury University Hammons School of Architecture and earned his MBA through University of Illinois at Chicago.
Kate Aoki, AIA
Head of Exhibition Design, Dallas Museum of Art
ABOUT
Kate Aoki, AIA, is Head of Exhibition Design at the Dallas Museum of Art. With a Bachelor of Fine Arts in Textile Design from the Rhode Island School of Design and a
Master of Architecture degree from the University of Texas at Arlington's School of Architecture, Kate is fortunate to practice in a profession that satisfies both her passion for fine art and the
design of space. She spent more than a decade working in the architecture field, most recently at DSGN Associates in Dallas as a Senior Associate, where she worked on a variety of projects that
addressed important community needs. As Head of Exhibition Design at the DMA, Kate designs intimate and expressive spaces in ways that engage visitors while inviting them to learn more
about the art they experience and the communities in which they thrive.
Kate has dedicated much of her time to participating on art and architectural committees, as well as studio and design award juries. She has a longstanding relationship with the Dallas
chapter of the AIA, where she is currently serving as President. She is also a member of the Board of Directors for the Dallas Architecture Forum and the Dallas Foundation for Architecture,
and she has spoken in the past on craft and the art of weaving, and design influences in Dallas.
Peter Darby, AIA
Founder and Principal, Urban Darby Architecture
ABOUT
Peter Darby is the Founder and Principal at Urban Darby Architecture, a consultant-based transportation architecture practice in Dallas focused on aviation, transit, and urban design mixed-use projects. Peter is originally from the Chicago area and attended Lake Forest College studying Urban Studies, has an undergraduate professional architectural degree from Virginia Tech and a master's degree from Harvard Graduate School of Design. Before relocating to Dallas in 2013, Peter practiced in the Northeast, including Washington, DC, New York City, and Boston.
Peter currently serves on the AIA Dallas Board of Directors as President-Elect for 2023, as Vice President of Programs in 2022, and as Director of Education in 2021 and 2017. Peter is also past chair of the Historic Resources Committee and has been an active member of Public Policy, Communities by Design, Community Honors, Gala Planning, Codes and Standards, and COTE committees for AIA Dallas. Peter also currently serves on the AIA National Leadership team for AIA's Regional and Urban Design Knowledge Community. Peter was the recipient of the AIA Dallas President's Medal in 2021 and the AIA Dallas Presidential Citation in 2021 for his efforts in leading the AIA Dallas DART D2 Advisory Committee.
Peter also serves on other boards, including the Executive Committee for the Greater Dallas Planning Council and past Chair of the Urban Design Awards; Second Vice President with the Board of Directors for the U.S. Capitol Page Alumni Association in Washington, DC, including Director of Events leading national and regional programs. Peter served on the National Board of Directors for the Virginia Tech Alumni Association for six years.
IT'S NOT TOO LATE TO SUBMIT YOUR ENTRIES FOR EXCELENCE IN DESIGN AWARDS
Find past submissions, submission requirements and the submission entry form here.
---
Call for Nominations – AIA Central PA Special Awards
AIA Central Pennsylvania leadership requests nominations for the 2023 Young Architects Award and the Distinguished Service Award.    Please help to honor the great work being done in our communities by nominating a peer or co-worker for one of these awards.  Nominations are open through July 28, 2023.  The award winners will be honored at the Annual Conference, Expo and Design awards event held on September, 14, 2023.  
The Young Architects Award: 
This award is given to an individual who, in an early stage of their architectural career, has shown exceptional leadership in service to the profession, the community, design, planning, and/or education.
The Central Pennsylvania program is modeled after the national AIA's Young Architects Award program. Any member of the AIA may nominate one or more individuals. A candidate may self-nominate with additional letters of nomination.  See more and submit a nomination here.  
Distinguished Service Award: 
The AIA Central Pennsylvania Board requests nominations for the 2023 Distinguished Service Award.  This award is presented to individuals who have distinguished themselves through their exceptional commitment and service to the AIA Central Pennsylvania Chapter and the profession of architecture.
Given the exceptional nature of this award, it is only awarded on warranted occasions, but may not be awarded more than one time each calendar year.
All nominations will be reviewed by the Awards Committee and they will make a recipient recommendation to the AIA Central Pennsylvania Board of Directors.  Recipients must be approved by a 2/3rds vote of the sitting Board members.  See more and submit a nomination here.
---
Scholarship Recap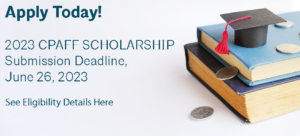 The Central Pennsylvania Architects Foundation Architecture Scholarship was established as a permanent restricted scholarship fund in conjunction with The Foundation for Enhancing Communities (TFEC) headquartered in Harrisburg, Pennsylvania which administers the Fund.
Students enrolled in undergraduate and graduate Architecture programs – and who are current residents of the 13-county Central PA AIA Chapter region are eligible to apply.   The selection process considers both financial need and talent.  Applicants do not have to be attending a Pennsylvania institution.  PLEASE PASS ON TO STUDENTS OR EDUCATORS
To be eligible you must be enrolled in an architecture degree program such as a two-year or four-year undergraduate program; five-year professional program or graduate program leading to a Masters of Architecture.
CPAFF Architecture Scholarships are limited to students who are present or former residents with a current mailing address from one of the following 13 counties in Central PA: Adams, Cumberland, Dauphin, Franklin, Fulton, Juniata, Lancaster, Lebanon, Montour, Northumberland, Perry, Snyder, or York.
The initial amount required to establish the Fund was raised through AIA Central Pennsylvania proceeds from Chapter events, annual fundraising sponsored by the Foundation Advisory Committee and generous gifts by Chapter members and affiliates.
Annual fundraising efforts by the Foundation Advisory Committee and AIA Central Pennsylvania continue – and are targeted to match or exceed the annual scholarship amounts to preserve and grow the endowment – and increase the annual award. Tax deductible donations may be made online here.
---
2023 District Days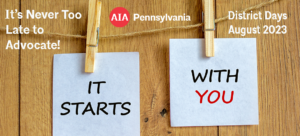 Meet your elected Officials and let them know what is important to you and the profession of Architecture. 
Advocate in August! AIA Pennsylvania is looking for your availability to schedule meetings with your legislators back home in the districts, your shared communities, throughout the month of August for District Days. 
Whether you are a newbie or seasoned advocate, your profession needs you to take a summer break to advocate. This is your opportunity to advocate for our issues moving in the legislature and establish yourself and architects as a trusted resource for our elected officials across Pennsylvania.
The goal is to have elected officials walk away from these meetings with an understanding of the ways architects can act as a resource for them in all matters related to the built environment that touch the health, safety, and welfare of their constituents. 
---
Registration Open for 2023 Conference and Expo
AIA Central Pennsylvania members will be gathering in person on September 14th to celebrate design excellence, this time in the city of Lancaster.   The day will offer three one hour architectural building tours, locations still to be determined, a vendor exhibition and happy hour, followed by a keynote speaker, and finally ending the night with the Excellence in Design Award reveal.  The 2023 conference location is Excelsior, 125 King St., Lancaster, PA  17602

Schedule of Events – Registration at Bottom of the page
Afternoon Architectural Tours
2:00 pm – 3:00 pm  Tour #1 Steven Holl' Winter Visual Arts Center at F&M College
3:00 pm – 4:00 pm  Tour #2 Emblem Urban, Lancaster's Renowned Architect Walking Tour
4:00pm – 5:00pm Tour #3 The Fulton Theatre Expansion
5:00 – 6:45 pm Happy Hour and Vendor Expo – Enjoy drinks and appetizers at the Excessior 
6:45 – 7:30 pm Keynote Speaker – This year's keynote speaker will be Matthew Goerke.  Matthew will be presenting the Memory Switch Workshop
7:30 – 9:00 pm Design Awards
Questions?  Please contact Rachel Haynes, Assoc. AIA Central PA President, 717-394-0553 or rhaynes@tippettsweaver.com
---
Call for Member Articles
AIA Central PA would like to feature scholarly articles / blogs related to our profession in each quarterly newsletter. This is an excellent opportunity to have your article published and available to your fellow architects / engineers in Central PA. If you are interested in submitting an article or blog please send your inquiries to Brett Hallacher at bhallacher@rlps.com.
---
Membership Notes
Thank you to all of our AIA Central PA members who renewed your membership!  We value you as a member and appreciate your feedback.  Please let us know what we can do to continue to support you.  Please reach out to Susan Frear at any time.  Remember to log in and update your profile information at aia.org.  Please let Susan Frear at AIA PA know if you have any question about dues or membership.  sfrear@aiapa.org
---
Upcoming Events
REGISTER FOR UPCOMING AIA PA EVENTS.
---
Job Opportunities
View the latest positions posted to our job board!
Hiring? Submit your position HERE