2022 Conference & Design Awards
September 28, 2022 @ 2:00 pm

-

9:00 pm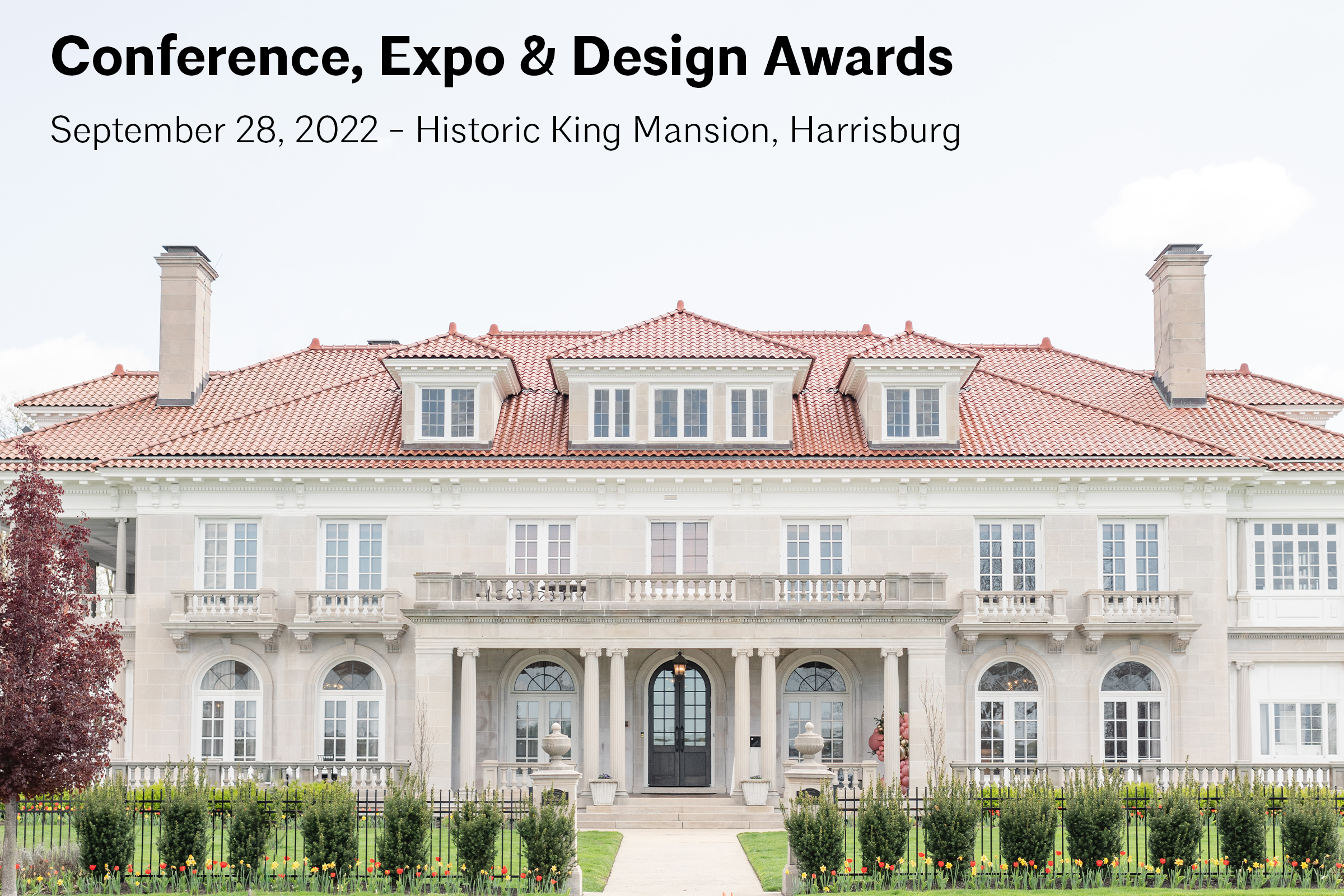 The Conference, Expo, and Excellence in Design Awards is back! AIA Central Pennsylvania is happy to continue this signature event in-person this fall. Join us at the The Historic King Mansion for building tours, an exclusive vendor expo, networking happy hour, and the 2022 design awards reveal.
*This event will be held in accordance with CDC Guidelines, venue policies, and building tour policies.
Schedule of Events – Registration at Bottom of the page
Afternoon Architectural Tours
2:00 pm – 3:00 pm  Tour #1 "Art and Architecture of the Pennsylvania Capitol Complex"
With David Morrison, Executive Director of Historic Harrisburg
The Pennsylvania Capitol, designed by Joseph W. Huston and completed in 1906 at the height of Pennsylvania's economic and political might, is so exuberant, it is often called "a Palace of Art." Exterior highlights include the Barnard Sculpture Groups flanking the main entrance and Perry's gilded "Commonwealth" statue atop the dome.  The older buildings of the Capitol Complex follow a symmetrical master plan by Arnold Brunner, following "City Beautiful" principles. Other highlights of the tour include statues of Civil War and Gilded Age personages, as well as prominent 19th-century African Americans.  The Carl Milles "Agriculture Doors" on the Finance Building and the bronze doors of the Education Building (currently undergoing total restoration) also will be examined.  Meet at Main Capitol West Entrance.
3:00 pm – 4:00 pm  Tour #2 "Brew Pubs, Bistros, and Murals of the Midtown Market District"
 With David Morrison, Executive Director of Historic Harrisburg
Departing the classical architecture of the Capitol Complex and passing through the iconic Mid Century Modern campus of the PA State Museum and Archives, this tour explores a variety of architectural styles and public artworks in the Midtown National Register Historic District.  Highlights include the Northwest Office Building (home of the PA Liquor Control Board), historic and infill housing of Old Fox Ridge, Zeroday Brewing Co., funky Harrisburg Midtown Arts Center (HMAC), Broad Street Market (oldest continuously operated farmers' market in the U.S.) and Millworks restaurant, brewery, and art gallery in a brilliantly adapted former lumber mill. Meet at Main Capitol West Entrance.
4:00 pm – 5:00 pm Tour #3″A Rage to Live!" – Riverfront Mansions of the Roaring Twenties
 With David Morrison, Executive Director of Historic Harrisburg
Life on Harrisburg's legendary Front Street, chronicled in novelist John O'Hara's "A Rage to Live," boasted ballrooms, indoor swimming pools, and a rich array of the architectural "revival" styles popular in the 1920s.  This tour takes in some of the grandest mansions of all, including several reconverted back into single family homes after decades as offices.  We also see the Georgian-revival Governor's Residence, completed in 1968 after decades of indecision and famously flooded less than four years later.  Two blocks east of Front Street is the quaint, recently-thriving Olde Uptown Historic District, with renovated row homes, coffee shops, apartments in a repurposed school, all transformed from drug-infested slum to hipster heaven by visionary urban developers.  4 – 5 PM.  Meet on King Mansion front terrace, 2201 N. Front Street.
5:00 – 6:45 pm Happy Hour and Vendor Expo – Enjoy drinks and appetizers at the King Mansion overlooking the Susquehanna River
6:45 – 7:30 pm Keynote Speaker – With Theo Armstrong, founder of Zeroday Brewing Company
7:30 – 9:00 pm Design Awards
Questions?  Please contact Rachel Haynes, Assoc. AIA Central PA President, 717-394-0553 or rhaynes@tippettsweaver.com
Thank you to our Exhibitors and Sponsors for making this event possible!
Our Exhibitors
ARMSTRONG CEILING SOLUTIONS
ARCH RESOURCES
CONESTOGA TILE
DIVERSIFIED
FUNDERMAX
ILLUMINATIONS
HAYWORTH
INTERFACE
MODERNFOLD OF READING
KCI TECHNOLOGIES
GLEN-GERY
KEITH BUSH ASSOCIATES 
PROVIDENCE ENGINEERING
TANNER FURNITURE
WESTLAKE ROYAL BUILDING
WINDSOR ONE
PENN STONE
RIVERBEND GREENROOFS
RULON INTERNATIONAL
PPG
Our Sponsors
Base Level Event Underwriters
7 GROUP
WOHLSEN CONSTRUCTION COMPANY

Happy Hour Sponsors
ONYX DESIGN & CONSULTING
CAMPBELL ASSOCIATES
RAYDOOR
EPSA
REGISTER TODAY: