AIA Central PA Fall Lecture
Susan T. Rodriguez, FAIA made a presentation titled "Overlay: Current Work" on November 3rd for the 2022 AIA Central PA Fall Lecture. Susan T Rodriguez Architecture is a decorated 5 year old firm based in New York City – she was a founding Partner and Design Principal at Ennead Architects (formerly Polshek Partnership & she noted the profound impact Jim Polshek had on her both in terms of empowering her but also informing her design sensibilities). 
Susie presented 14 projects from her diverse portfolio that ranged from federal courthouses to school buildings to museums to housing to recreational centers with the aspiration of creating extraordinary places. She presented the projects through the lens of her rich historical analytical process in an effort to improve the communities and places where she works by focusing on who the buildings are for.
The work was compelling without fail which is impressive particularly given the range of scales and building types. The historic images, design sketches, conceptual diagrams, material collages, and "x-ray" sections thoroughly explained the building designs. 
I took her presentation as not only an overview of her body of work and what informs it but also a call to action. Susie spoke of the architect's responsibility to not only realize our clients' visions and aspirations but also sustain and improve our communities and respect the natural environment.
See all photos and watch a recording of the lecture here.
Thank You to all the Sponsors – 16 sponsors made the lecture possible – and all the Attendees – we had another strong turnout. Special thanks to Armstrong for being such tremendous hosts.
Written by Chris Dawson
---
Tippetts/Weaver Architects Honored with 2022 AIA Pennsylvania Architecture Firm Award
Lancaster, PA: The American Institute of Architects (AIA) Pennsylvania recently named Tippetts/Weaver Architects of Lancaster as the recipient of the 2022 Architecture Firm Award.  This is the first time since its inception in 2013 that the prestigious award has been given to a firm with a female founder. Wendy H. Tippetts is one of the two founding partners of Tippetts/Weaver Architects, and for over thirty years has led the design direction and culture of the firm.
"T/Wa creates beautiful architecture for everyone, crafted with deep thought and care, constructed with materials choreographed in logical but poetic ways, that moves us in its power to reimagine the building stock of Lancaster, PA and the surrounding communities," wrote Chris Dawson, AIA LEED AP BD+C, one of eight architects from across the state to serve on this year's nomination committee.
The Architecture Firm (of the Year) Award recognizes a Pennsylvania firm whose passion and practice have produced notable architecture for at least a decade. Deserving firms have demonstrated excellence in design and leadership through any combination of the following criteria: the breadth and/or depth of their portfolio, a healthy firm culture, influence on the practice of architecture, and exemplary outcomes for clients and/or society.
Tippetts/Weaver Architects was chosen from a pool of four nominees submitted to the committee by the nearly 3,000 members of AIA Pennsylvania. Tippetts/Weaver is not only the first firm from Central Pennsylvania to have been chosen for the award, but also the smallest.  "
It is a tremendous honor to be recognized among our peers across the state for our design excellence, breadth of experience, and community contributions," said Wendy Tippetts. "Since founding the firm in 1987 with Gary Weaver, we have sought to create timeless architectural solutions that satisfy and delight. Our success comes from  collaboration, from being good listeners, and from a commitment to make Central Pennsylvania a great place to live.
Photos from the Awards Viewing Party:
---
Venues Wanted
for the 2023 Conference, Expo, and Design Awards
Next year's event planning is already underway and is expected to be held in Lancaster, PA as we rotate around our geographical area.  We are looking for potential event spaces and recommendations on continuing education seminars – including tours of recently completed projects in Harrisburg as well as recommendations for our keynote speaker.  If any members have any ideas on a unique venue space or speakers please pass them our way! Please email any ideas to Rachel Haynes at rhaynes@tippettsweaver.com. Any suggestions would be greatly appreciated!
---
Let your Voice be heard – Complete the Legislative Survey
The 2021-2022 Legislative Session is almost over. While we still have work to do in Harrisburg this year, we are starting our planning for the next two-year legislative survey.  Link to participate in the 2022-2023 AIA PA legislative survey.  The survey closes next week. 
---
Statewide Palm – Looking for Mentors and Mentees!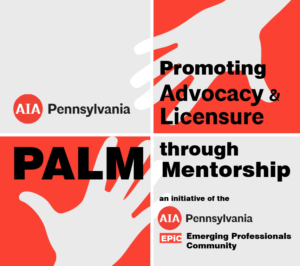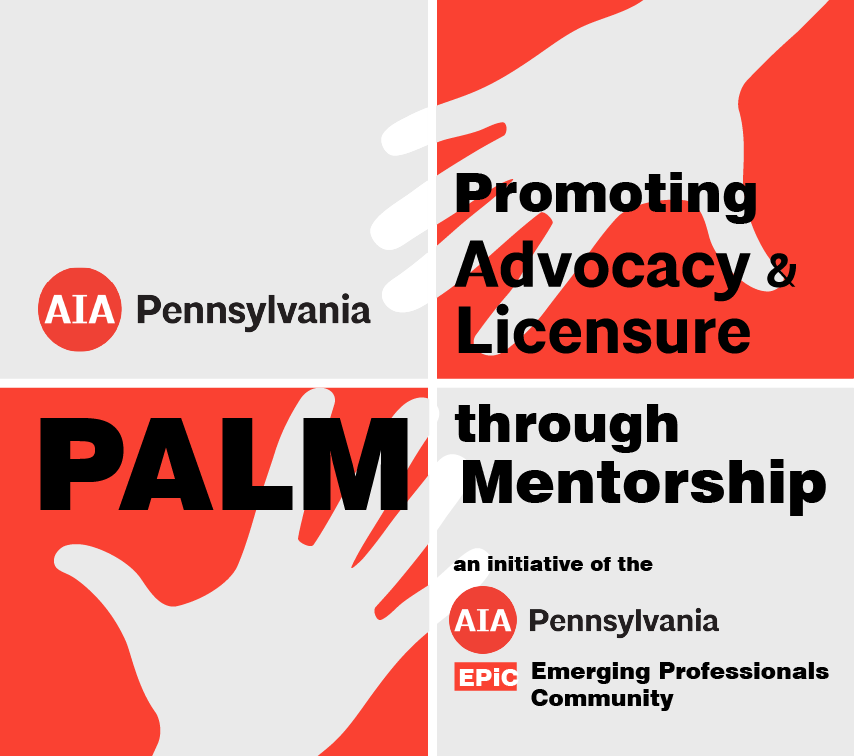 AIA Pennsylvania's PALM (Promoting Advocacy and Licensure through Mentorship) program brings quality mentoring to individuals in Pennsylvania that may not have had such an opportunity in the past. The purpose of the PALM program is to create a dialogue between registered architects, aspiring architects, and architecture students regarding advocacy, career experiences, goals, and thoughts on the past and future of the profession. This program is intended to engage members at all levels of professional development and encourage the mission of AIA Pennsylvania by preaching benefits of licensure for architectural grads and the importance of advocacy for all members.
REGISTRATION IS NOW OPEN FOR 2023
NEW FOR 2023
The Emerging Professionals Committee will be launching the 2nd state-wide virtual PALM program beginning in January 2023. This is a unique opportunity for architects, emerging professionals, and architectural students from all over Pennsylvania to connect with mentors in chapters other than their own.
How?
Sign up using the registration link above. All registered members will be invited to a kick-off Zoom meeting in January to meet the other mentors and mentees from across Pennsylvania. Next, smaller groups will be formed which will include an experienced architect, newly licensed architect, designer on licensure path, and an architectural student. Each group is responsible for meeting at least three times averaging every 3-4 weeks, for at least one hour each time. These meetings will be scheduled independently among the group.
If you have additional questions about PALM please contact EPiC Staff Liaison Susan Frear at sfrear@aiapa.org. The deadline to register is January 13th, 2023.
---
Call for Member Articles
AIA Central PA would like to feature scholarly articles / blogs related to our profession in each quarterly newsletter. This is an excellent opportunity to have your article published and available to your fellow architects / engineers in Central PA. If you are interested in submitting an article or blog please send your inquiries to Brett Hallacher at bhallacher@rlps.com.
---
Membership Notes
A short note and reminder from AIA Pennsylvania about membership.  You will be receiving your dues letters from AIA soon.  Dues is due by March 31, 2023.  Please let Susan Frear at AIA PA know if you have any question about dues or membership.  sfrear@aiapa.org
---
Upcoming Events
REGISTER FOR UPCOMING AIA PA EVENTS.
---
Job Opportunities
View the latest positions posted to our job board!
Hiring? Submit your position HERE