AIA Central Presidents Message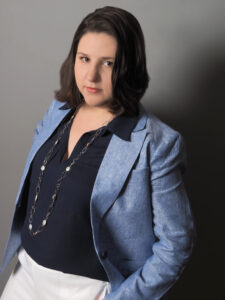 Central PA AIA members:
Inspiring the next generation of architects is personal for me and that's why I became an AIA member years ago, to continue to grow and give back to a community that has given so much to me personally.
AIAs mission is the same now as it was 100+ years ago, to strengthen and support our profession. We are advancing this mission in difficult times with COVIDs impact on public health and our economy. Fortunately, we are turning the corner and can now provide our services in-person as before.
With that I am pleased to announce the launch of Drafting Hours (PKA Happy Hours) events via inclusive partnerships with local firms and organizations, bi-annual lectures, mentorship opportunities for licensure and specific skillsets as well as personal access to the Made in PA series.
 We are a community of purpose; and so, if you are interested in growing and giving back to a profession that has served and supported you, I would love to meet you and hear your story. Meetings are quarterly and posted on our website's calendar at AIA Central Pennsylvania (aiacentralpa.org).
 None of us get to where we are in life completely by ourselves. This is particularly true in my case. I would like to thank those who have helped in my transition. We have known each other for many years, and you are a great friend and mentor. You know who you are.
 With the utmost admiration and respect for what you do,
Jacalyn Prasnikar, AIA, NCARB
---
Spring Lecture 2022 – Kevin Daly, FAIA
We are excited to announce that Kevin Daly, FAIA will be joining our chapter on Thursday May 4th, 7pm at the West Shore Theater in New Cumberland and sharing his works and experiences.  Kevin Daly, FAIA was recently featured on the Design:ED podcast where he discussed projects and his thoughts on architecture, collaborative design, materials, and innovation.
 Over his thirty-year career, Kevin Daly has defined a design process that upholds the practical magic of architecture – an alchemical conjunction of craft, materials, and form. Bolstered by abundant research, he has demonstrated the benefits of advanced, unconventional building technology in works that are consistently recognized in publications and awards, and range from public schools, custom residences, and university buildings to affordable housing.
 Daly is particularly recognized for reclaiming and transforming sites characteristic of the postwar city, turning generic background buildings into models of community identity. Noted architecture critic Nicolai Ouroussoff, writing about Daly's inner city charter schools, claimed they are some of "the most inspiring projects built in Los Angeles in years" and a model of "a thoughtful, low-cost work of architecture that embodies the kind of civic purpose and progressive ideals that so many public institutions give lip service to but rarely fulfill."
 Projects by Kevin Daly express his belief in an architecture that is performative on every level: environmentally, structurally, economically, and aesthetically. Daly has established a critical practice that is nationally recognized and simultaneously engages the profession as well as the local community. Almost every project has been published nationally or received awards for design excellence. He has served on numerous AIA awards juries, won the first AIA/LA Firm of the Year Award, held distinguished university chairs at Berkeley and Michigan, and is a regular faculty member at UCLA. Through his teaching experience he fosters a next generation of architects across the country.
Location:
West Shore Theater
317 Bridge Street
New Cumberland, PA 17070
 
Time:
7:00 PM on Thursday, May 4th
Followed by a Social Hour
 
Tickets:
AIA Members & Students $10
Non-Members: $20
 
Pre-Register at:
HTTP://aiacentralpa.org
By: Tuesday, May 2nd
---
2023 Conference, Expo, and Design Awards
AIA Central Pennsylvania members will be gathering in person on September 14th to celebrate design excellence, this time in the city of Lancaster.   The day will offer three one hour architectural building tours, locations still to be determined, a vendor exhibition and happy hour, followed by a keynote speaker, and finally ending the night with the Excellence in Design Award reveal.  The 2023 conference location is Excelsior, 125 King St., Lancaster, PA  17602
A Little History on the Venue – Excelsior:
The excelsior Hall was built as a beer hall/saloon and social club in 1873.  The beer was stored and kept below-ground in the cool catacombs.  In 1951 the brewery was closed down, and Excelsior opened as a furniture store.  The furniture store operated up until 1977 and then the complex was vacant for more than 40 years.  Kelly and John Dantinne saw its potential and began to make it into the magical place that it has become. The abandoned building was crumbling when the couple began investing all their time and energy into gutting and remodeling the complex to make it as beautiful as it is historical. Finally, on February 20, 2016, they successfully completed their first event, a wedding that marked the official opening of Excelsior!   See more of the excelsior here
2023 Keynote Speaker:
This year's keynote speaker will be Matthew Goerke.  Matthew will be presenting the Memory Switch Workshop "Discovering Your Memory Power".  Matthew is regarded as one of America's Leading Experts in the field of Memory Development.  He has shared his techniques with thousands of business professionals from all walks of life.  His results in developing instant recall memory can only be described as amazing.  
What to expect from the "Memory Switch" program: 
Learn how to remember names, faces and key information shared by clients and staff

Learn how to make presentations without notes

Learn how to use your memory and the techniques shared to boost confidence and make powerful first impressions. 

Learn how to share information with clients and staff in a way that will dramatically increase the listeners retention of key information. 

Remember important information from meetings, to-do lists and written material

Boost sales and networking skills to increase referrals and repeat business 

Reduce stress and improve time management. 
"There is no such thing as a bad memory, just an untrained one…  "Matthew Goerke"
---
ACE Mentoring Program of Central PA Fundraiser Breakfast
The ACE Mentor program of Central PA will hold its annual Fundraiser Breakfast on April 27, 2023 at the Conference Center at Central Penn College from 7:30-9:00am.  The ACE alumni that are  lined up to speak from our Lancaster program are Lauren Bucher of Wagman Construction, Inc., Chris Ressler of C.S. Davidson, Inc., and Brandon Tezak of Wohlsen Construction Company.
The Central Pennsylvania ACE program began in York County in 2004 with the support of firms like yours. Our affiliate has grown to offer quality programs in four counties (Dauphin, York, Cumberland, and Lancaster).  The ACE Mentor program's mission is to "enlighten and motivate high school students to career opportunities in Architecture, Construction and Engineering and related areas of the design/construct industry through mentoring".  
Central Pennsylvania remains one of the largest Affiliates in the nation for the twelfth straight year with over 100 students participating from many high schools across the Central PA region. Your donations at this event will help determine the scholarship amounts for those eligible students selected that demonstrated their commitment to the building construction industry by either pursuing apprenticeship training in the skilled trades or higher education in architecture, construction management or engineering.  The financial support of our sponsors to date has provided over $100,000 in scholarships to local students across the region.  Your commitment is critical to ensure that we can continue to invest in our future as well as the future of these students.
Please email Kelsey Leed, kleed@cra-architects.com for sponsorship opportunities and RSVP information. And thank you in advance to the AIA Central PA membership for their continued support of the ACE Mentor Program it is so vital to the future of our profession.
---
Government Affairs Update
What AIA Pennsylvania is Tracking in Governor Shapiro's Budget Proposal
On March 7, Pennsylvania Governor Josh Shapiro presented his first budget proposal to the tune of $44.4 billion, emphasizing his vision for "commonsense investments to make Pennsylvania communities safer and healthier, create real opportunity and build an economy that works for all, and ensure every child has access to a quality education."
AIA Pennsylvania's government affairs leadership, committee, and task forces will closely monitor the legislature's review and budget hearings through the start of the fiscal year, July 1, when a spending plan for the state must be in place. Our focus is on the impact of the proposed investments on architects' practice and business environment, the construction industry, as well as Pennsylvania's vertical infrastructure, including funding for school construction, environmental impacts, and community revitalization. Below, find the proposed investments and commitments that we will be tracking and, in some instances, advocating for as negotiations on funding and legislation ensue.
Educational Infrastructure 
$100 million in matching grants for schools to make environmental repairs and improvements 

$100 million in school safety and security grants to address physical safety enhancements and provide security coordinator training

$4.2 million to create a Public Library Facilities Improvement Fund to provide rural public libraries access to grant funding for repairs and improvements
The Environment & High-Performance Building 
Assumes participation in the

Regional Greenhouse Gas Initiative (RGGI)

, still under litigation, will yield more than $600 million to invest in greenhouse gas reduction, energy efficiency, and clean/renewable energy programs
Community and Business Development
Commits to support and expand funding for the

Whole-Home Repairs Program

$12 million to the

Pennsylvania First Program

, a financing mechanism enticing businesses to Pennsylvania that allows them to fund the cost of construction or rehabilitation of buildings, including architectural and engineering fees

Includes an additional $2 million for the

Workforce and Economic Development Network of Pennsylvania — WEDnetPA

– a program that gives Pennsylvania's employers an opportunity to provide employee training on topics ranging from business operations to diversity to technical applications including

Building Information Modeling (BIM)

Funding for Governor Shapiro's

Office of Transformation and Opportunity

, "a one-stop-shop for businesses looking to grow and contribute to aggressively reigniting Pennsylvania's economy"

Commitment to improving

Pennsylvania's professional licensing, permitting, and certification processes

, providing a "money-back" guarantee if processing times aren't met

Expands the

Keystone Communities Program

by investing $8.6 million in communities that are already on a path to revitalization and continue to facilitate greater participation from smaller, rural, and lower-income communities

$1.5 million in the

Municipal Assistance Program

to financially assist communities with comprehensively planning around revitalization efforts, improvement processes, and sound management of development activities

$1 million investment in the

Pennsylvania Council on the Arts

to expand financial assistance opportunities to enhance and drive retention and attraction of residents, talent, and visitors

Continues the planned decrease in Corporate Net Income Tax rate to 8.49% in tax year 2024, with a path to 4.99%
---
2023 AIA Leadership Summit (Formerly Grassroots) Recap
Pennsylvania Architects Lobby Congress to Kickoff Leadership Summit
AIA Lobby Day                    
Members and staff of the American Institute of Architects (AIA) from across Pennsylvania were among over 400 architects and AIA leaders that met with Members of Congress and their staff on February 15 for AIA Lobby Day, the kickoff to the 2023 AIA Leadership Summit, held February 14 – 17 in Washington, DC. The day gave the membership the platform to advocate for two bipartisan bills that benefit communities and their inhabitants: the Democracy in Design Act and the Resilient AMERICA Act.
The

Democracy In Design Act

(S.366) would ensure that communities across the country maintain a voice in the design of federal buildings consistent with their preferences, topographies, and design traditions.

The Resilient AMERICA Act would make significant changes to the federal government's ability to prepare communities for future natural disaster by increasing federal funding for pre-disaster mitigation through FEMA's Building Resilient Infrastructure and Communities (BRIC) program. The bill's previous version from the 117

th

Congress can be

found here as H.R. 5689

.
AIA members and staff from across Pennsylvania met with the offices of the following Members of Congress representing Pennsylvania: Senator Bob Casey, Senator John Fetterman, Representative Brendan Boyle, Representative Madeleine Dean, Representative Chris Deluzio, Representative Brian Fitzpatrick, Representative Chrissy Houlahan, Representative Summer Lee, Representative Dan Meuser, Representative Scott Perry, and Representative Lloyd Smucker.
As the President of Central PA AIA, I was fortunate to have the opportunity to attend the 2023 AIA Leadership Summit, (PKA AIA Grassroots Conference) along with past-presidents Elysia Mikkelsen and Rachel Haynes. Together, we shared in the benefits of networking, advocating for policy change, and participating in the leadership training workshops all essential to bringing the best value to our members, you.
This year's Summit took place in Washington D.C. and focused on the theme of "Architecture's Generations at Work." To help architects embrace the idea of thriving in an era of rapid change and utilize the power of design for a brighter future. 
It was a privilege to represent AIA Central PA with my fellow presidents throughout Pennsylvania on Lobby Day. We met Members of Congress and their staff advocating for two bipartisan bills that benefit communities and their inhabitants. These are the Democracy in Design Act and the Resilient AMERICA Act. I encourage you to look further into these issues, explore the way these policies impact your daily practice, and engage in networking events with policy influences for an improved future for our community.  We as architects share similar challenges as policymakers. We are managing tight budgets and impending deadlines all in an effort to build something that lasts.
Rachel, Elysia and I returned from the Summit more energized than ever to bring forth the change we've been talking about for the past few years as we've transitioned into a Section. Now, one year out and back to in-person programs and events, we look forward to seeing you again and are ready to lead the charge toward positive change.
The AIA member and staff delegation from across the state that participated included:
Roger Williams, AIA – AIA Pennsylvania President

Scott Compton, AIA – AIA Pennsylvania Strategic Council Representative

Jeremiah Woodring, AIA – AIA Pennsylvania Government Affairs Committee Vice-Chair

Eric Booth, AIA – AIA Pennsylvania Treasurer

Elysia Mikkelsen, AIA – AIA Pennsylvania Director/Past AIA Central Pennsylvania President

Parva Markiw, AIA – AIA Pennsylvania Emerging Professionals Chair

Anastasia Markiw, AIA – AIA National Young Architect Forum Advocacy Director/Past Young Architects Representative (YAR) –

Joseph Phillips, AIA – AIA Bucks County President

Jacalyn (Jacie) Prasnikar, AIA – AIA Central Pennsylvania President

Rachel Haynes, Assoc. AIA – AIA Central Pennsylvania Director

Robert (Rob) Fleming, AIA – AIA Philadelphia President

Brian Smiley, AIA – AIA Philadelphia President-Elect

John Ryan, AIA – AIA Pittsburgh President

Stephen Swarney – AIA Pennsylvania Executive Director

Amal Mahrouki – AIA Pennsylvania Director of Legislative Affairs

Rebecca Johnson – AIA Philadelphia Executive Director

Michelle Fanzo – AIA Pittsburgh Executive Director
AIA members are a powerful voice for the values they uphold in their practices every day. As natural facilitators and problem-solvers, architects stand ready to support new policies that create a more resilient, sustainable, and equitable society.
Architecture's Generations at Work
The Leadership Summit's host and 2024 President-elect Kimberly Dowdell, AIA, and AIA's CEO/EVP Lakisha Ann Woods, CAE, kicked off the first full day of programming dedicated to the theme "Architecture's Generations at Work." Their discussion drove home the importance of harnessing the architect's leadership and skill set and the power of design to adapt to and embrace our rapidly changing world and industry to build greater resilience in our chapters, firms, and profession.
Generational change researcher and Summit keynote presenter Kim Lear echoed that architecture is a unique profession to examine through a generational lens because it demands architects "understand how the world changes and what people need out of their space and their communities."
---
Call for Member Articles
AIA Central PA would like to feature scholarly articles / blogs related to our profession in each quarterly newsletter. This is an excellent opportunity to have your article published and available to your fellow architects / engineers in Central PA. If you are interested in submitting an article or blog please send your inquiries to Brett Hallacher at bhallacher@rlps.com.
---
Membership Notes
Thank you to all of our AIA Central PA members who renewed your membership!  We value you as a member and appreciate your feedback.  Please let us know what we can do to continue to support you.  Please reach out to Susan Frear at any time.  Remember to log in and update your profile information at aia.org.  Please let Susan Frear at AIA PA know if you have any question about dues or membership.  sfrear@aiapa.org
---
Upcoming Events
REGISTER FOR UPCOMING AIA PA EVENTS.
---
Job Opportunities
View the latest positions posted to our job board!
Hiring? Submit your position HERE