2023 Conference, Expo and Awards Event Recap
The AIA Central Pennsylvania members gathered in person on September 14th in the vibrant city of Lancaster to honor and celebrate outstanding design achievements. The event drew an impressive turnout, featuring captivating tours and fostering a sense of strong camaraderie. We extend our heartfelt appreciation to our dedicated tour guides who delivered three exceptional tours in Lancaster. Our warmest congratulations go out to all the deserving winners of the design awards!
This year, we had the privilege of hosting Matthew Goerke as our keynote speaker. Matthew presented the "Memory Switch Workshop: Discovering Your Memory Power." He is renowned as one of America's foremost authorities in the realm of Memory Development, and he has generously shared his expertise with countless business professionals from diverse backgrounds. The remarkable results he has achieved in enhancing instant recall memory are nothing short of astonishing.
For more details, please refer to the full write-up available here. You can also explore the entire collection of award-winning design projects by clicking here.  Take a look at our photo gallery from the day!
THANK YOU TO ALL OF OUR SPONSORS AND EXHIBITOR WHO MAKE THIS EVENT POSSIBLE EVERY YEAR!
Please remember to support our sponsors and exhibitors throughout the year and seek their professional expertise in your projects.
---
Fall Lecture – October 26th
Join us for the AIA Central PA Fall Lecture, taking place on October 26th at 7pm, right on the Armstrong Campus in Lancaster. This event promises to be an enlightening evening, with our esteemed guest speaker, Meejin Yoon from Howeler + Yoon, delivering a lecture entitled "Verify in Field."
We eagerly anticipate another evening of knowledge sharing and community building. For additional information and specifics about the event and to register, please visit this link. We look forward to seeing you there!
---
AIA Central PA National Scholarship Grant Award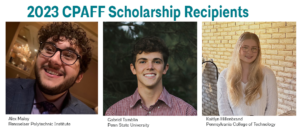 AIA Central PA Receives 2023 AIA National Scholarship Grant Award 
AIA Central PA has been selected for the seventh straight year as a recipient of a Scholarship Program Grant Award from AIA National, this year in the amount of $1,500.  Since 2005, AIA National has been awarding the scholarship grant to local and state components with established scholarship programs.  
The talented recipients included: Gabriel Tamblin (Penn State University), Alex Maloy (Rensselaer Polyclinic Institute) and Kaitlyn Hillenbrand (Pennsylvania College of Technology).  All of whom were selected by The Central PA Architects Foundation which is made up of AIA Central PA Past Presidents.  Tamblin and Maloy were awarded their scholarships at the Annual Design Awards Ceremony held September 14, 2023 at the Excelsior in Lancaster.  Hillenbrand will be awarded her scholarship at the upcoming Fall Lecture on October 26, 2023.  To register for the event please follow this link: Lecture Series – AIA Central Pennsylvania (aiacentralpa.org). 
You can read more about each recipient here: 2023 CPAFF Scholarship Recipients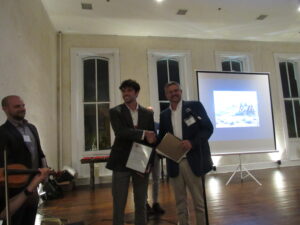 Gabriel Tamblin – Penn State University with Matt Lutrell, THYNK Design, LLC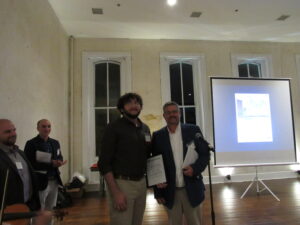 Alex Maloy – Rensselaer Polytechnic Institute with Matt Lutrell, THYNK Design, LLC
Thank you to the founding members of the Central PA Architects Foundation Scholarship program which has made AIA Central PA eligible for this grant and also to AIA National for supporting this grant program.  Also—a huge thank you to those members and friends of AIA Central PA who continue to invest in the future of the architectural profession.  
To contribute to the Central PA Architects Foundation click here https://aiacentralpa.org/emerging-professionals/scholarship/
---
Call to Vote and AIA PAC

This November we have the opportunity to exercise our right to vote and make our voices heard as a Nation. Please remember to vote this election season. 
AIA Pennsylvania is and has been engaged with our State Politicians though the Political Action Committee (PAC) to advocate for our profession. Their involvement has directly affected legislation throughout the years and will continue to be a voice for Architecture. Please visit the PAC website https://www.paarchitectspac.org/ for more information on how to become involved and to donate. 
---
AIA Central PA Volunteers Needed
Volunteering for AIA Central Pennsylvania's leadership team can be a fantastic way to advance your career and make a positive impact on your local architecture community. Here are some potential benefits of getting involved:
Professional Growth: Volunteering allows you to gain valuable experience and skills that can enhance your professional development. You can learn about leadership, project management, event planning, and more.
Networking Opportunities: By becoming a part of the leadership team, you'll have the chance to connect with other local architects and professionals in your field. This can lead to new collaborations and career opportunities.
Community Involvement: Volunteering for your local AIA chapter is a way to give back to your profession and your community. It's a chance to contribute to the growth and development of the architecture field in your region.
Personal Satisfaction: Many people find personal satisfaction and a sense of accomplishment in volunteering. Knowing that you're making a difference and helping your professional community can be very rewarding.
Knowledge Sharing: AIA Central Pennsylvania's leadership team seeks volunteers with outstanding talent and experience. This is an excellent platform to share your knowledge and expertise with others and contribute to the growth of the profession.
Leadership Experience: Serving on a leadership team provides an opportunity to develop your leadership skills. This experience can be valuable in your career and open up leadership roles in other organizations.
If you're interested in volunteering, consider reaching out to Jacie Prasnikar (jprasnikar579@gmail.com) or Brett Hallacher (bhallacher@rlps.com) to express your interest and learn more about the specific opportunities available. It's a great way to get more involved in your passion and profession and to help AIA Central Pennsylvania continue to thrive in the years ahead.
---
Call for Member Articles
AIA Central PA would like to feature scholarly articles / blogs related to our profession in each quarterly newsletter. This is an excellent opportunity to have your article published and available to your fellow architects / engineers in Central PA. If you are interested in submitting an article or blog please send your inquiries to Brett Hallacher at bhallacher@rlps.com.  This is an excellent opportunity to showcase your expertise and contribute to the professional development of your peers.
---
Membership Notes
Membership renewal reminder. This is the time of year to renew your membership in AIA! The annual call for dues has been sent from AIA National!  We thank you for renewing your membership for 2024.  We value you all as members and want to continue to provide events and information at the local level for you all with relevant content and opportunities.  When you renew on line, take a moment to update your profile and sign up for knowledge communities that are of interest to you.  Please reach out to Susan Frear at any time.   Please let Susan Frear at AIA PA know if you have any question about dues or membership.  sfrear@aiapa.org
---
Upcoming Events
REGISTER FOR UPCOMING AIA PA EVENTS.
---
Job Opportunities
View the latest positions posted to our job board!
Hiring? Submit your position HERE